Whether you want to pursue a career in uniformed services, such as the Royal Navy, Armed Forces, Royal Air Force, police or fire brigade or would like to work in health and personal fitness, we can help you find a path that's right for you. We have over 40 academies across England and Wales.
You will be expected to participate in physical training every day. This makes up for 50% of the course at MPCT, and will support your preparation and progression into the military. Being fit and healthy is an essential part of military life and civilian employment. Daily physical training helps you to concentrate and focus during lessons, and you'll become more physically and mentally robust.
Regardless of where you learn, you will conduct daily fitness training, weekly military training and citizenship lessons. You will also take part in monthly careers education sessions, supported by military and civilian recruiters and employers.
Our courses are designed to give you the skills you need to start your journey towards a rewarding career in the British Armed Forces or to progress on to further education or training. Problem-solving and leadership skills are essential in the Armed Forces and civilian employment.
What courses do we offer?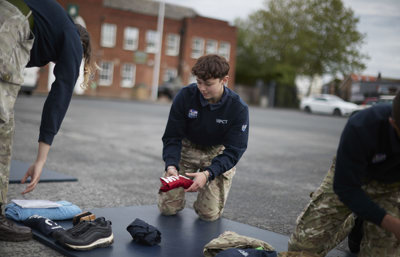 Preparation for Military Service
The Preparation for Military Service qualification will help you develop the skills and attitudes you need to gain employment in all branches of the British Armed Services. These skills are also highly valued by employers in non-military sectors and industries. The aim of the course isn't just to prepare you for getting a job. Getting a job is just the first step; we also focus on giving you the tools to succeed and advance in your role and future career.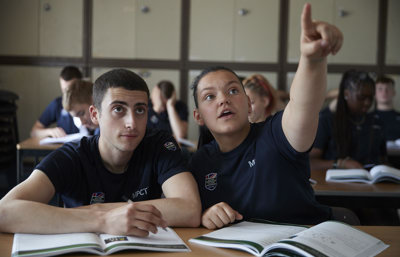 Entry to the Uniformed Services
The Entry to the Uniformed Services qualification will help you develop an understanding of the principles of the uniformed services sector and to explore the various avenues of work within it. It will also demonstrate the transferable skills that can be applied to any workplace or further study. Learn about the skills and qualities needed to work in a range of uniformed services such as leadership, discipline and fitness.
Find Out More About Our Academies
Here are some of the most frequently asked questions by students before enrolling on the course.
All of our instructors are ex-Armed Forces personnel with years of military experience. You will gain lots of useful Military skills, knowledge and fitness which will prepare you for each stage of your application. You'll even wear a military-based uniform whilst with us.
No. We will make sure that you work at a level that is suitable for you.
Yes, the training is free due to the course being partly funded by the European Social Fund.
No. Your fitness will improve naturally as you take part in exercise every day at our Academy and you'll be supported to achieve the coveted green bib!
You may be eligible for a training bursary or allowance depending on which country you live in.
You will receive individual career advice whilst on the course to help you pick which area of the military or fitness world is best for you.
Unlike traditional colleges, you can start anytime during the year. This is usually within a week of applying.
Aldershot MPCT Military Academy
Browning Barracks, Alisons Rd, Aldershot, GU11 2BU 03301113939 enquiries@mpct.co.uk
Bangor MPCT Military Academy
Old Warehouse, Farrar Road, Bangor, Gwynedd, LL57 1LJ 03301113939 enquiries@mpct.co.uk
Battersea MPCT Military Academy
Army Reserve Centre, 27 St Johns Hill, Battersea, London, SW11 1TT 03301113939 enquiries@mpct.co.uk
Birmingham MPCT Military Academy
4th Floor Quayside Tower, Broad Street, Birmingham, B1 2HF 03301113939 enquiries@mpct.co.uk
Bradford MPCT Military Academy
Belle Vue Barracks, Army Reserve Centre, Drill Parade, BD8 7HY 03301113939 enquiries@mpct.co.uk
Bridgend MPCT Military Academy
Ground Floor, 14-18 Queen Street, Bridgend, CF31 1HX 03301113939 enquiries@mpct.co.uk
Bristol MPCT Military Academy
The Artillery Grounds, Whiteladies RD, Clifton, Avon, Bristol, BS8 2LG 03301113939 enquiries@mpct.co.uk
Cambridge MPCT Military Academy
Army Reserve Centre, 450 Cherry Hinton Rd, Cambridge, CB1 8HQ 03301113939 enquiries@mpct.co.uk
Cardiff MPCT Military Academy
One Canal Parade, Dumballs Road, Cardiff, CF10 5BF 03301113939 enquiries@mpct.co.uk
Chorley MPCT Military Academy
Lancaster House, Devonshire Rd, Chorley, PR7 2DJ 03301113939 enquiries@mpct.co.uk
Colchester MPCT Military Academy
Army Reserve Centre, Circular Rd East (Lower), Colchester, CO2 7SZ 03301113939 enquiries@mpct.co.uk
Croydon MPCT Military Academy
Army Reserve Centre, Mitcham Road, Croydon, CR0 3RU 03301113939 enquiries@mpct.co.uk
Cwmbran MPCT Military Academy
Chapman VC House, Ty-Coach Way, Cwmbran, Torfaen, NP44 7HB 03301113939 enquiries@mpct.co.uk
Eastbourne MPCT Military Academy
Army Reserve Centre, Carter Barracks, 103 Seaside, Eastbourne, BN22 7NL 03301113939 enquiries@mpct.co.uk
Edgware MPCT Military Academy
Army Reserve Centre, Deansbrook Road, Edgware, London, HA8 9BA 03301113939 enquiries@mpct.co.uk
Gateshead MPCT Military Academy
College Academy for Sport, Neilson Rd, Gateshead, NE10 0AF 03301113939 enquiries@mpct.co.uk
Gloucester MPCT Military Academy
1st Floor Office Suite, Messenger House, 35 St Michael's Square, Gloucester, GL1 1HX 03301113939 enquiries@mpct.co.uk
Ipswich MPCT Military Academy
Army Reserve Centre, Yarmouth Rd, Ipswich, IP1 4BH 03301113939 enquiries@mpct.co.uk
Leeds MPCT Military Academy
Harewood Barracks Army Reserve Centre, Skinner Lane, LS7 1AR 03301113939 enquiries@mpct.co.uk
Lincoln MPCT Military Academy
Sobraon Barracks, Burton Rd, Lincoln, LN1 3PY 03301113939 enquiries@mpct.co.uk
Liverpool MPCT Military Academy
Toosey Barracks Army Reserve Centre, Aigburth Road, Liverpool, L17 9PH 03301113939 enquiries@mpct.co.uk
Manchester MPCT Military Academy
Army Reserve Centre, Oldham Road, Failsworth, Manchester, M35 0BH 03301113939 enquiries@mpct.co.uk
Merthyr Tydfil MPCT Military Academy
Lower Ground Floor, Ty Penderyn, 25 High Street, Merthyr Tydfil, CF47 8DP 03301113939 enquiries@mpct.co.uk
Newcastle MPCT Military Academy
Army Reserve Centre, Rhodes St, Walker, Newcastle Upon Tyne, NE6 3RA 03301113939 enquiries@mpct.co.uk
Newport MPCT Military Academy
104 Regiment Royal Artillery, Raglan Barracks, Allt-Yr-Yn, Newport, NP20 5XE 03301113939 enquiries@mpct.co.uk
Nottingham MPCT Military Academy
HMS Sherwood, Swiney Way, Beeston, Nottingham, NG9 6GX 03301113939 enquiries@mpct.co.uk
Plymouth MPCT Military Academy
MILLBAY Barracks, Millbay Park, Plymouth, PL1 3BQ 03301113939 enquiries@mpct.co.uk
Portsmouth MPCT Military Academy
Highbury College, Tudor Crescent, Portsmouth, PO6 2SA 03301113939 enquiries@mpct.co.uk
Sheffield MPCT Military Academy
Manor Top Barracks, Army Reserve Centre, Hurlfield Road, S12 2AN 03301113939 enquiries@mpct.co.uk
Southampton MPCT Military Academy
Totton College, Water Lane, Totton, Southampton, SO40 3ZX 03301113939 enquiries@mpct.co.uk
Stoke on Trent MPCT Military Academy
Army Reserve Centre, Baskeyfield House, Anchor Road, Stoke on Trent, ST3 5BL 03301113939 enquiries@mpct.co.uk
Sunderland MPCT Military Academy
Beacon of Light, Stadium Way, Sunderland, SR5 1SN 03301113939 enquiries@mpct.co.uk
Swansea MPCT Military Academy
Morfa Army Reserve Centre, Alamein Road, Swansea, SA1 2HP 03301113939 enquiries@mpct.co.uk
Teesside MPCT Military Academy
Army Reserve Centre, Norton Road, Stockton-On-Tees, TS20 2QW 03301113939 enquiries@mpct.co.uk
Wakefield MPCT Military Academy
Army Reserve Centre, George Street, WF1 1DW 03301113939 enquiries@mpct.co.uk
Walsall MPCT Military Academy
Manor Farm Community Association, King George Crescent, Rushall, Walsall, WS4 1EU 03301113939 enquiries@mpct.co.uk
Wolverhampton MPCT Military Academy
4 Mercian, Wolseley House, Wolverhampton, WV10 9QR 03301113939 enquiries@mpct.co.uk
Wrexham MPCT Military Academy
Hightown Barracks, Kingsmills Rd, Wrexham, LL13 8RD 03301113939 enquiries@mpct.co.uk
Apply now - start your future with Learning Curve Group today