Course Overview
When you're working in hospitality, it's important to make sure you give customers a great first impression. This course will teach you skills including how to communicate effectively, the importance of teamwork and the importance of maintaining food hygiene.
You will also learn about the legislation and guidance you will need to know when working in this sector, as well as the professional personal standards you will need to maintain.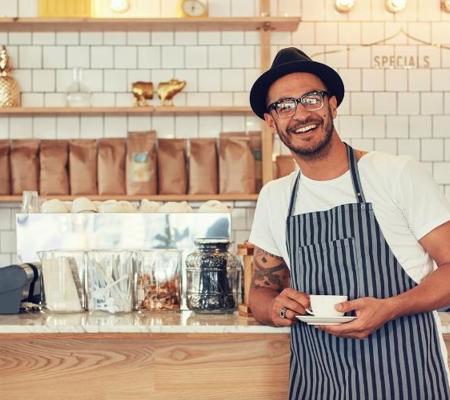 Is This Course Free?
This course is funded by the government's Adult Education Budget, which means you may be able to study for free. Eligibility criteria for funding can be found below. If you are not eligible for funding, you can still purchase the course by clicking the 'Buy Now' button above.
Fully Accredited Course
This course is accredited by NCFE CACHE, a leading educational charity with over 170 experience. NCFE is recognised by the UK Department for Education and regulated by Ofqual.
Progression Opportunities
This course would be important for job roles such as: Health Service Manager (£31,365 to £104,927) Counter Service Assistant (£12,000 to £19,000) Hotel Receptionist (£14,000 to £22,000)
How Long is the Course?
The duration of this course is seven weeks. We refer to our online courses as 'flexible learning' because they're designed to be completed around your work and home life commitments. All deadlines for your course will be shown in your online course platform once you are enrolled to help keep you on track.
What will I learn?
This course is made up of four units:
Principles of customer service in the hospitality sector
Understand effective teamwork in the hospitality sector
Understand legislation and guidance relevant to the hospitality sector
Understand professional personal standards in the hospitality sector
Eligibility Criteria
This course is government funded, you must meet the following criteria to be able to study for free:
You must currently live in England    
You must have been resident in the UK/EU for 3+ years, for purposes other than study    
You must be over the age of 19   
You must not be on an apprenticeship
There is a £125 cancellation fee if you enrol and do not complete or withdraw from the course. This fee is to cover administration costs. 
89%
customers are more likely to purchase after good customer service
61%
British customers would avoid a company with bad service
4th
largest UK employer - the hospitality sector
>140k
businesses in the UK hospitality sector
Studying made simple!
We don't like to make things more complicated than they need to be... Our courses are designed to be flexible around your work and family life. 
Submit your enrolment form
You'll get instant access to begin your course
We'll start processing your funding application
A tutor will be assigned to support you through your course, they can be contacted via phone, text or email
You'll receive text reminders when your work is due
Your work will be marked by your Tutor and returned to you within 7 days.
Submit your work
Once you've finished your course, we'll apply for your certificate. This will be posted to your home address within 6 months of completing your course.
Start your application
If you'd like to enrol, we'd love to welcome you on a course with us! 
Need support enrolling? 
If you'd like support with your enrolment, or want to make sure this is the right course for you, fill out your details below and a member of the team will be in touch.