Course Overview
Recent research found that 30% of women surveyed had taken sick leave because of their menopause symptoms - but only a quarter felt like they could talk to their manager about their absence. A survey by People Management found that 1 in 10 women have left work due to their symptoms - and with women over 50 being the fastest growing demographic in the workplace, education around menopause is key to supporting women to stay in work.
Throughout this course, you will learn how to understand menopause, understand the challenges of menopause in the workplace, and symptom management.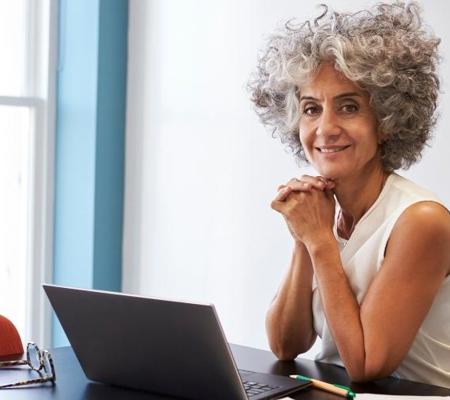 Fully Accredited Course
This course is nationally accredited by Innovate Awarding and regulated by Ofqual. Innovate Awarding are an independent awarding organisation that specialise in work-based learning and transition to work qualifications across a wide range of sectors including care, active leisure, health and business management.
Progression Opportunities
This qualification can be used as CPD for line managers and HR professionals, or other employees looking to become a 'menopause champion'. The qualification aims to enable positive behaviors, positive thinking, and understanding around the challenges of the menopause.
How Long is the Course?
The duration of this course is seven weeks. We refer to our online courses as 'flexible learning' because they're designed to be completed around your work and home life commitments. All deadlines for your course will be shown in your online course platform once you are enrolled to help keep you on track.
What will I learn?
This course is made up of 4 units:
Understanding menopause
How to overcome the challenges of menopause in the workplace
Symptom management
Support menopause
About the course
The cost of this course is £499. After purchasing the course, you can access your learning content and begin immediately. You will receive:
Tutor support to help you complete the course
24/7 access to your online learning platform, to study at a time that works for you
A recognised certificate upon successful completion of the course.
You can expect to complete the course within 7 weeks, but can study whichever pace works best for you.
13m
peri or post-menopausal people in the UK
>30
recognised symptoms of menopause
4-8
years is the average duration of menopause symptoms
1%
of menopause starts before age 40
Studying made simple!
We don't like to make things more complicated than they need to be... Our courses are designed to be flexible around your work and family life. 
Complete your purchase
You'll get instant access to begin your course
Start learning!
A tutor will be assigned to support you through your course, they can be contacted via phone, text or email
You'll receive text reminders when your work is due
Your work will be marked by your Tutor and returned to you within 7 days.
Submit your work
Once you've finished your course, we'll apply for your certificate. This will be posted to your home address within 6 months of completing your course.
Complete your purchase
If you'd like to enrol, we'd love to welcome you on a course with us! 
Need support enrolling? 
If you'd like support with your enrolment, or want to make sure this is the right course for you, fill out your details below and a member of the team will be in touch.