We are a premier provider of superior learning materials in the UK, catering to a broad array of globally recognised qualifications.
Each year, we extend our support to hundreds of organisations and thousands of learners, offering them approved and accredited educational content. Our courses can be used as stand-alone qualifications, and cover a breadth of levels and sectors. We also have course materials that embed English and maths qualifications into relevant work and life scenarios.
Our awarding body-approved online assessment platform, eAssessor Pro, allows learners to complete their assessments via any internet-enabled device, making learning more accessible to your learners.
Within the price of the materials, we also supply:
Training courses for delivery staff / CPD 
Tutor marking guides
Course marketing materials 
Our online assessment portal, which has been extensively utilised with centres, is provided with no additional annual fees, and a dedicated Help Desk team to support all centres. 
We work with the following awarding organisations: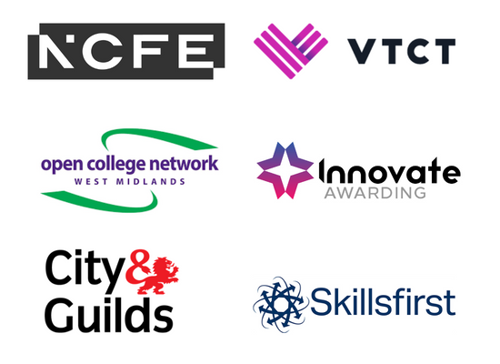 Learning Resources
We have a wealth of high-quality learning resources designed to support a wide variety of learning requirements. We work with sector specialists and awarding bodies to ensure that our learning resources and support are the best in the sector. 
Level 1
Introduction to the Facilities Industry - City & Guilds Award 
Introduction to the Facilities Industry - City & Guilds Certificate
Level 2
Business Improvement Techniques - NCFE Certificate 
Business Administration - NCFE Certificate
Climate Change and Environmental Awareness - NCFE Certificate
Creating a Business Start-Up - NCFE Certificate 
Customer Service - NCFE Certificate 
Information, Advice or Guidance - NCFE Certificate 
Lean Organisation Management Techniques - NCFE Certificate
Team Leading - NCFE Certificate 
Transition to Working in Business Administration - Innovate Certificate 
Transition to Working in Sales and Marketing - Innovate Certificate 
Workplace Violence and Harassment - NCFE Certificate 
Level 3
Business Administration - NCFE Diploma
Customer Service - NCFE Certificate
Leadership and Management - City & Guilds Diploma 
Level 1
Employability Skills - NCFE Award
Employability Skills - NCFE Certificate
Managing Your Money - NCFE Award
Level 2
Adverse Childhood Experiences - NCFE Certificate
Behaviour that Challenges - NCFE Certificate
Common Childhood Illnesses - NCFE Certificate
Introducing Caring for Children and Young People - NCFE Certificate
Introduction to Neuroscience in Early Years - NCFE Award
Safeguarding and Prevent - NCFE Certificate
Specific Learning Difficulties - NCFE Certificate
Level 3
Business Administration - NCFE Diploma
Assessing Vocational Achievement - NCFE Certificate
Assessing Vocational Achievement - VTCT Certificate
Childcare and Education - NCFE Technical Certificate
Childcare and Education - NCFE Technical Diploma 
Early Years Workforce - NCFE Diploma 
Special Educational Needs - OCNWM Certificate 
Supporting Teaching and Learning - NCFE Certificate 
Supporting Teaching and Learning - NCFE Diploma
Level 4 
Advanced Practitioner in Schools and Colleges - NCFE Certificate 
Level 2
Equality and Diversity - NCFE Certificate 
Understanding Autism - NCFE Certificate 
Understanding Menopause in the Workplace - Innovate Certificate
Level 3
Understanding Autism - NCFE Certificate
Level 1
Preparing to Work in Adult Social Care - NCFE Award
Level 2
Cancer Support - NCFE Certificate
Care and Management of Diabetes - NCFE Certificate
Care and Management of Diabetes - NCFE Certificate
Common Health Conditions - NCFE Certificate
Customer Service for Health and Social Care Settings - NCFE Certificate
Dementia Care - NCFE Certificate
Dignity and Safeguarding - NCFE Certificate
End of Life Care - NCFE Certificate
Falls Prevention Awareness - NCFE Certificate
Health and Social Care Professions - Acentis Extended Certificate
Improving Personal Exercise, Health and Nutrition - NCFE Certificate
Nutrition and Health - NCFE Award
Personal Care Needs - NCFE Certificate
Preparing to Work in Adult Social Care - NCFE Certificate
Prevention and Control of Infection in Health and Social Care - NCFE Certificate
Principles of Care Planning - NCFE Certificate
Safe Handling of Medication in Health and Social Care - NCFE Certificate
Skills for Further Study in Health - OCNWM Certificate
Technology Enabled Care - NCFE Certificate
Transition to Working in the Social Care Sector - Innovate Certificate
Working with Individuals with Learning Disabilities - NCFE Certificate
Level 3
Adult Care - NCFE Diploma
Dementia Care - NCFE Certificate
End of Life Care - NCFE Certificate
Preparing to Work in Adult Social Care - NCFE Certificate
Level 2
Coding Practices - NCFE Certificate
Cyber Security - NCFE Certificate
Data Protection and Data Security - NCFE Certificate 
Digital Skills for Work - NCFE Certificate
Digital Skills for Work (Business) - NCFE Certificate
Digital Skills for Work (Engineering) - NCFE Certificate 
Digital Skills for Work (Health and Social Care) - NCFE Certificate
Digital Skills for Work (Logistics) - NCFE Certificate
Transition to Working in Digital Industries - Innovate Certificate 
Level 3
Understanding Coding - NCFE Certificate
Level 2
Awareness of Mental Health Problems - NCFE Certificate
Children and Young People's Mental Health - NCFE Certificate
Counselling Skills - NCFE Certificate
Mental Health First Aid and Advocacy in the Workplace - NCFE Certificate
Tenant Support in Social Housing - NCFE Certificate
Understanding Domestic Abuse - NCFE Certificate
Understanding Mental Health for Early Years - NCFE Certificate
Working with People with Mental Health Needs - NCFE Certificate
Level 3
Counselling Skills - NCFE Diploma
Understanding Mental Health - NCFE Certificate
Level 2
Business Improvement Techniques - NCFE Certificate 
Cleaning Principles - NCFE Certificate 
Excellence in Customer Service for Hospitality - NCFE Certificate 
Retail Operations - NCFE Certificate 
Transition to Working in Hospitality, Leisure, Travel & Tourism - Innovate Certificate
Transition to Working in Retail - Innovate Certificate
Transition to Working in Warehousing and Logistics - Innovate Certificate
Warehousing and Storage - Innovate Certificate
Level 3
Access to HE Diploma (Business and Management) - AIM Qualification and Assessment Group 
Access to HE Diploma (Education) - AIM Qualification and Assessment Group 
Access to HE Diploma (Health Professionals) - AIM Qualification and Assessment Group 
Access to HE Diploma (Health and Social Care) - AIM Qualification and Assessment Group 
Access to HE Diploma (Nursing) - AIM Qualification and Assessment Group 
Access to HE Diploma (Midwifery) - AIM Qualification and Assessment Group 
Access to HE Diploma (Psychology) - AIM Qualification and Assessment Group 
Access to HE Diploma (Social Work) - AIM Qualification and Assessment Group